Your flat
We are building spacious flats of various areas which are perfectly suited to the requirements of modern construction. The new ROBYG flats represent well thought-out designs, functionality and high development standard. We offer modern technologies that are environmentally friendly and significantly lower your bills.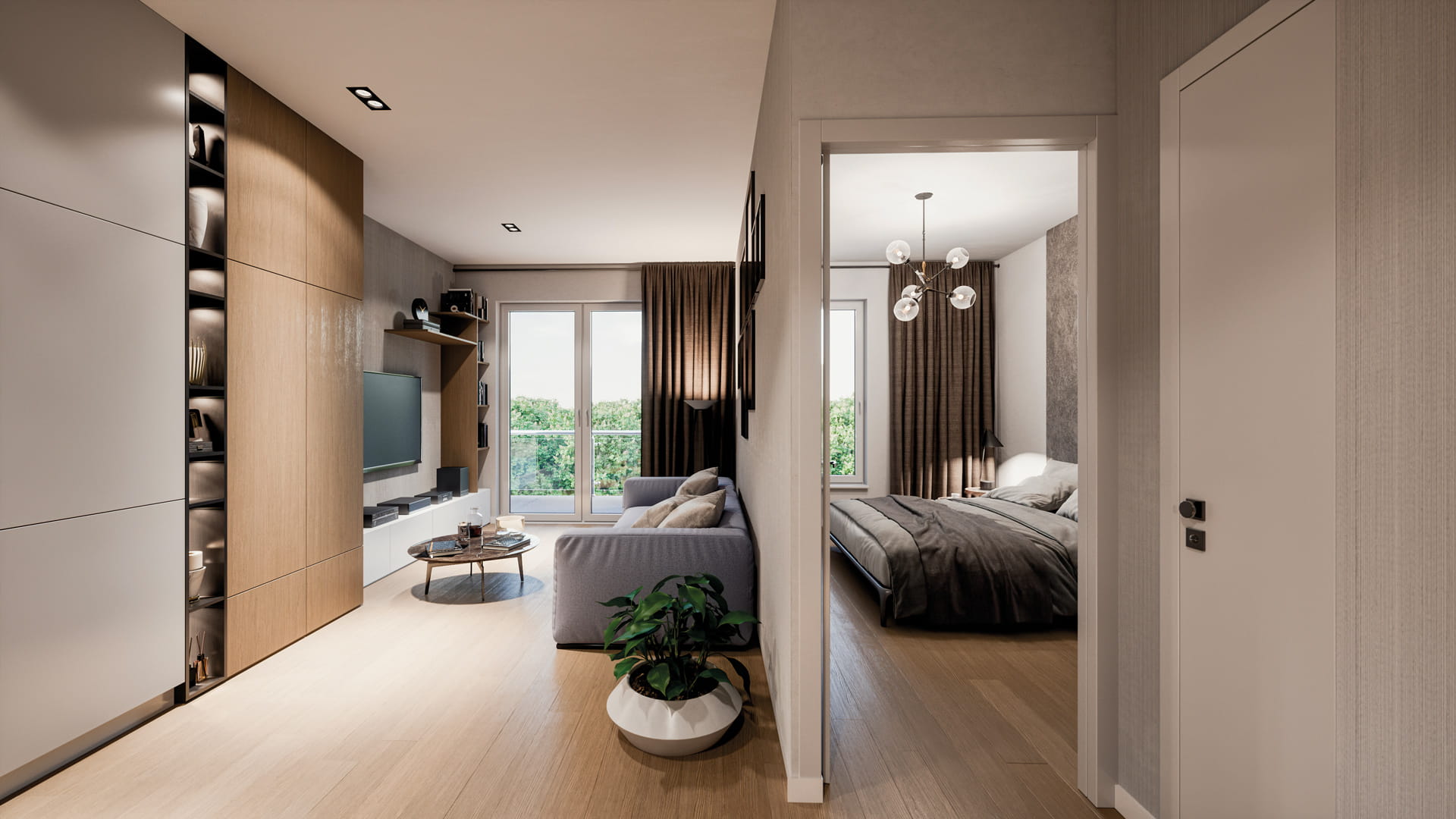 Height above standard
The height of our flats – from 2.65 metres to 3 metres, goes beyond the standard to give the dwellers a sense of greater space and provide better air circulation.
Wooden windows
As part of our investments, we use wooden triple-pane windows to provide better acoustic comfort and additional wind protection.
Heating
from the city network
Urban heating is one of the most economical and ecological methods of heating. Each apartment is individually measured, which gives you control over the actual consumption of heat and water.
Anti-intrusion
access door
We offer high-quality RC4 class anti-intrusion doors that not only look good but also provide intrusion prevention and acoustic comfort.
Balconies, loggias,
terraces and gardens
The ground floor flats have their own gardens and all the other ones – spacious balconies, loggias or terraces. We use, among others, modern, frost-resistant and anti-slip terrace plates to finish them.
Soundproofing of the flats
We use masonry partitions with soundproofing properties. The high-capacity materials used in their construction also allow heavy weight things to be attached to the walls.
Videophones
All apartments have modern videophones with colour screens that give you more control and sense of security.
White walls
For the sake of customer comfort, we paint white walls and ceilings twice in every flat we provide.
Flexible dweller's changes
In response to our customers' expectations, we offer the possibility of flexible interior arrangements. This allows each dweller to tailor their living space to their individual needs.
Equipment warranty
In our investments, we use materials that are compliant with the European standards. All the components used are covered by the manufacturer's warranty.
Smart House by Keemple included in the price
Most of our investments provide as a standard the Keemple Smart House system in the flat.
Elegant window sills
Window sills of natural stone or marble provide exceptional durability and a stylish look.
See how your new apartment is built
Click on the numbers to see the different components and to discover the standard
See how your new apartment is built
Click on the numbers to see the different components and to discover the standard
Your building
Our designs are distinguished by modern architecture, simple building structures and elevations kept in classic white with shades of grey or beige. The common areas are individually designed and finished with high quality materials. Their elegant character is highlighted by chic mirrors, original wallpapers and the well-adapted lighting, among others.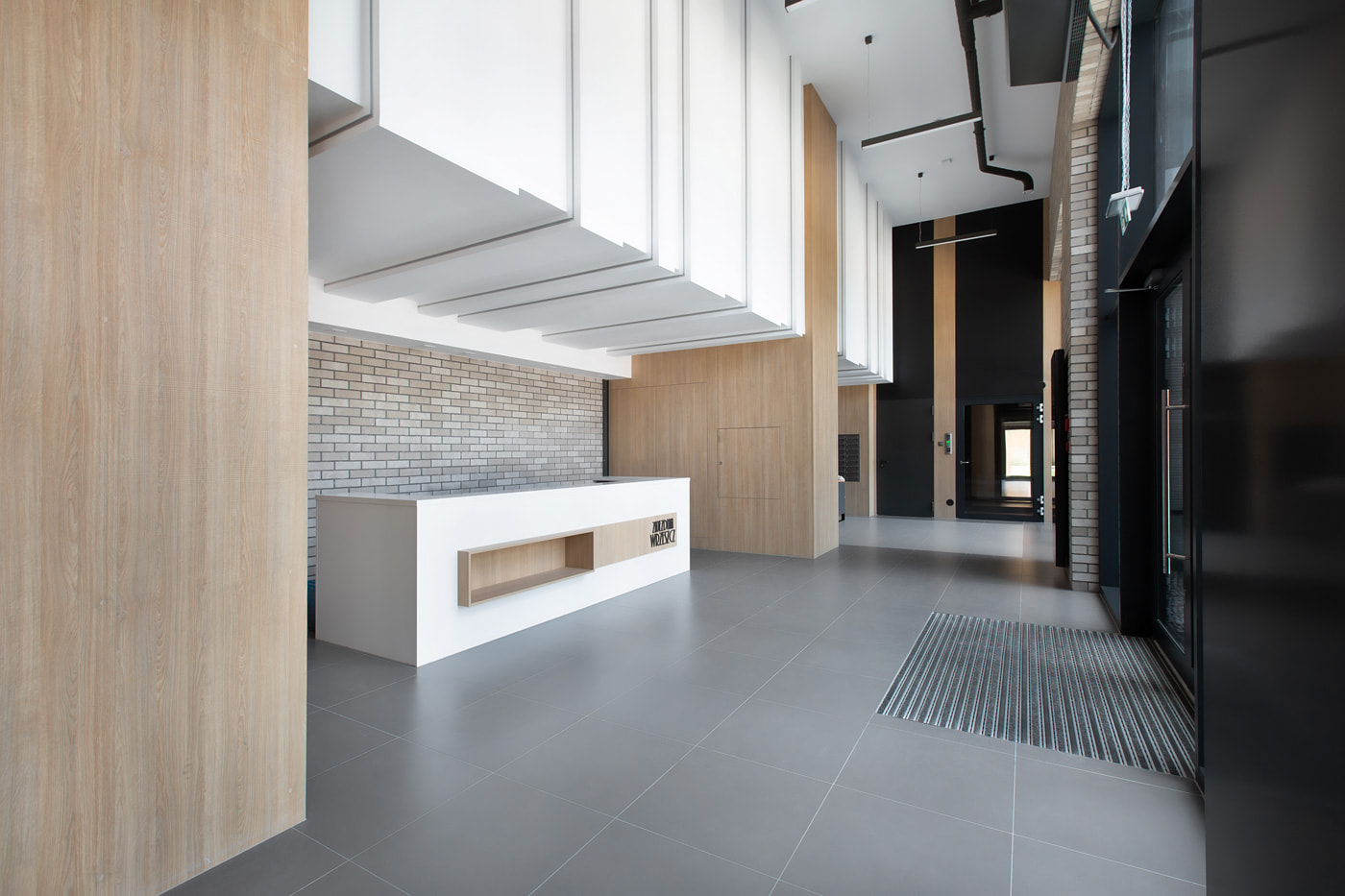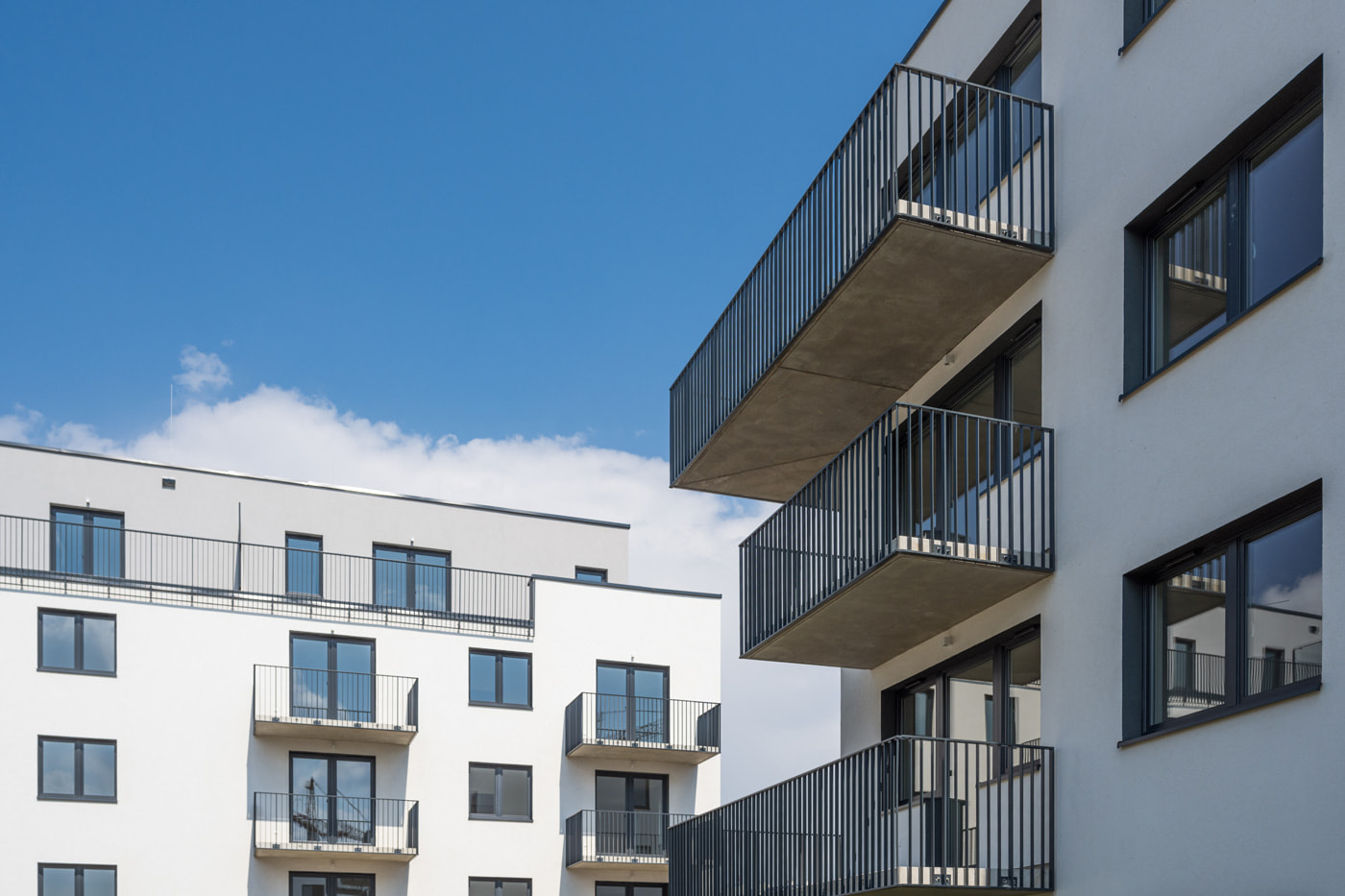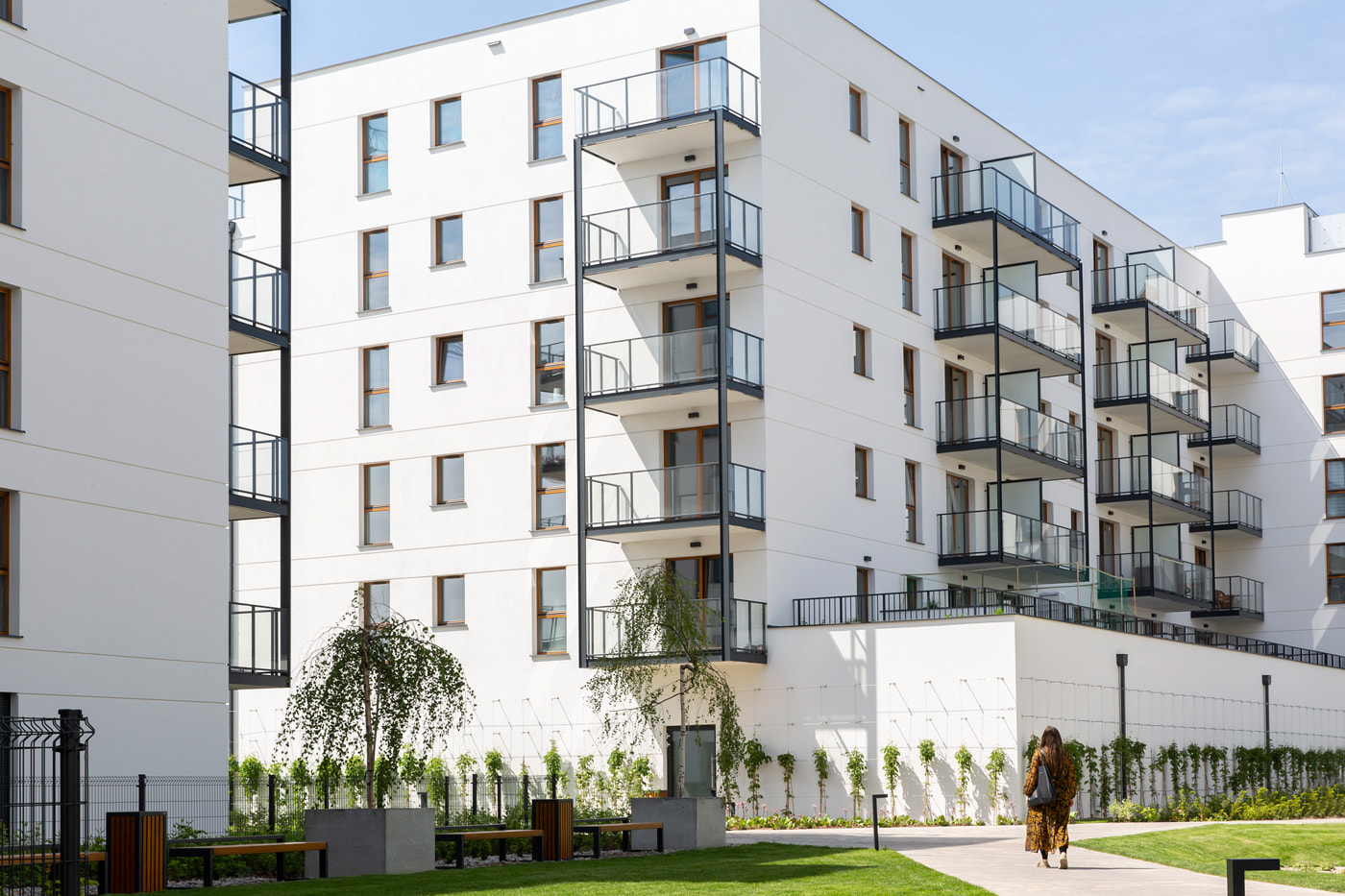 Building elevations
The elevations are kept in classic, timeless white with shades of grey or beige and are often enriched with precious materials.
Higher standard
We use the latest technology and high-quality finishing materials. In the individually designed joint parts you can admire photo wallpapers, paintings and stuccos as well as some historic sculptures.
Photovoltaic panels
Roof-mounted photovoltaic panels significantly reduce the electricity charges of common areas.
LED lighting
In common areas of our buildings, we use energy-efficient and eco-friendly LED lighting controlled by motion sensors.
Eleganckie panele drzwiowe
Portale drzwiowe są estetycznie wykończone trwałą i odporną na uszkodzenia płytą drewnopodobną.
Fibre installations in the dwelling
The buildings are equipped with a fibre-optic installation directly connected to each dwelling, providing the fastest possible access to the Internet.
Lobby with a doorkeeper
Many of our buildings have elegant entrance lobbies with a doorkeeper. Such a solution increases security and raises the prestige of the housing estate.
Quiet elevators
All buildings are equipped with fast, quiet elevators from renowned manufacturers. They guarantee the dwellers safety and comfort.
Modern TV antennas
On the roofs of buildings, we install terrestrial and satellite TV antennas. Terrestrial television provides access to all basic programmes, while satellite allows to entirely give up on purchasing individual antennas.
Extensive ventilation system
We use exhaust mechanical ventilation to provide excellent air circulation and to maintain the right temperature and humidity in both the flats and the common areas of the buildings.
Fire protection systems
Fire protection systems are responsible for the safety of the dwellers. They detect fire in common areas, control the smoke-extraction of staircases and automatically alert the fire department.
We offer both parking spaces in garage halls and outdoor parking spaces. Customers have the opportunity to buy a box room. We use automatic garage doors controlled by a remote control and a ramp heating system.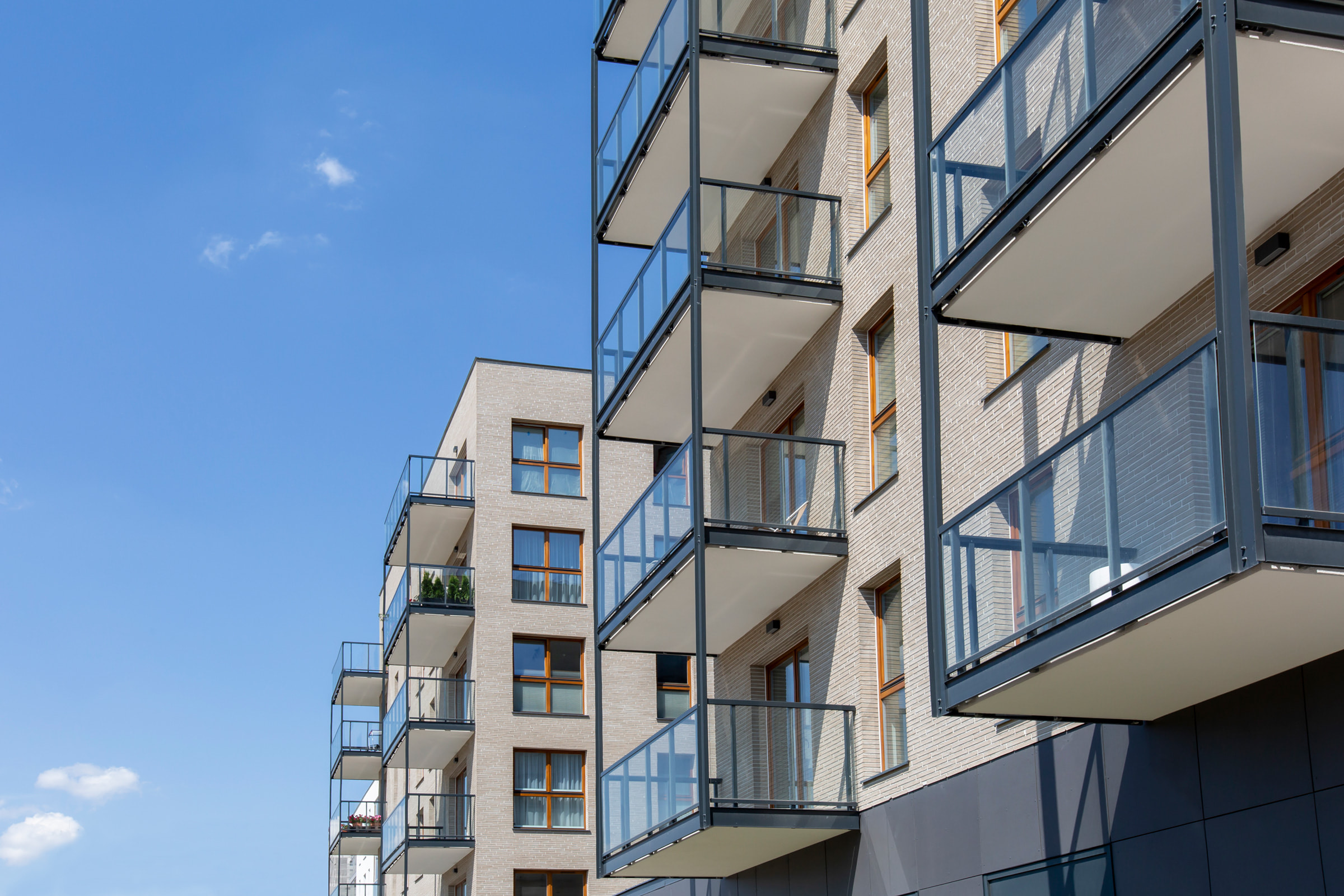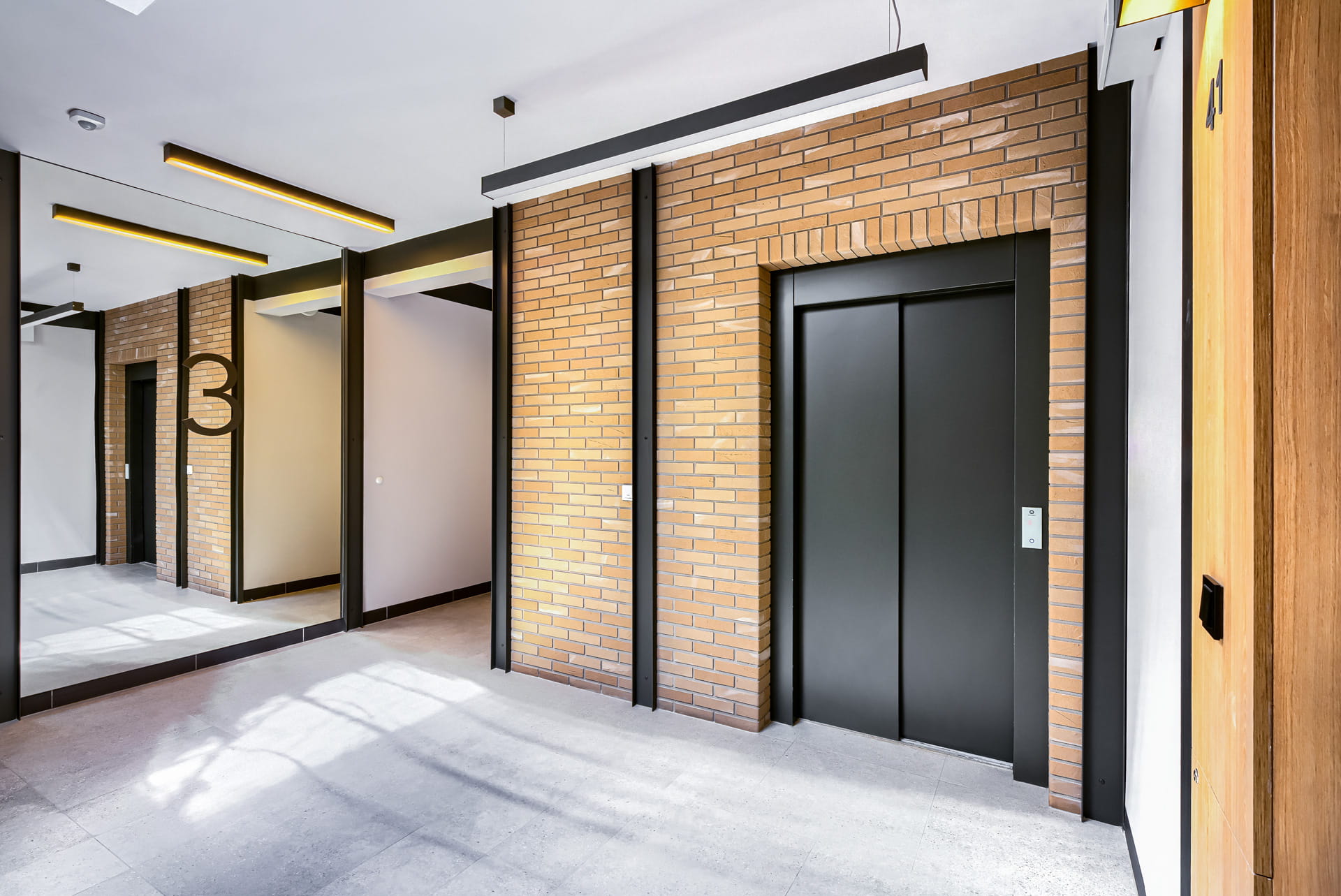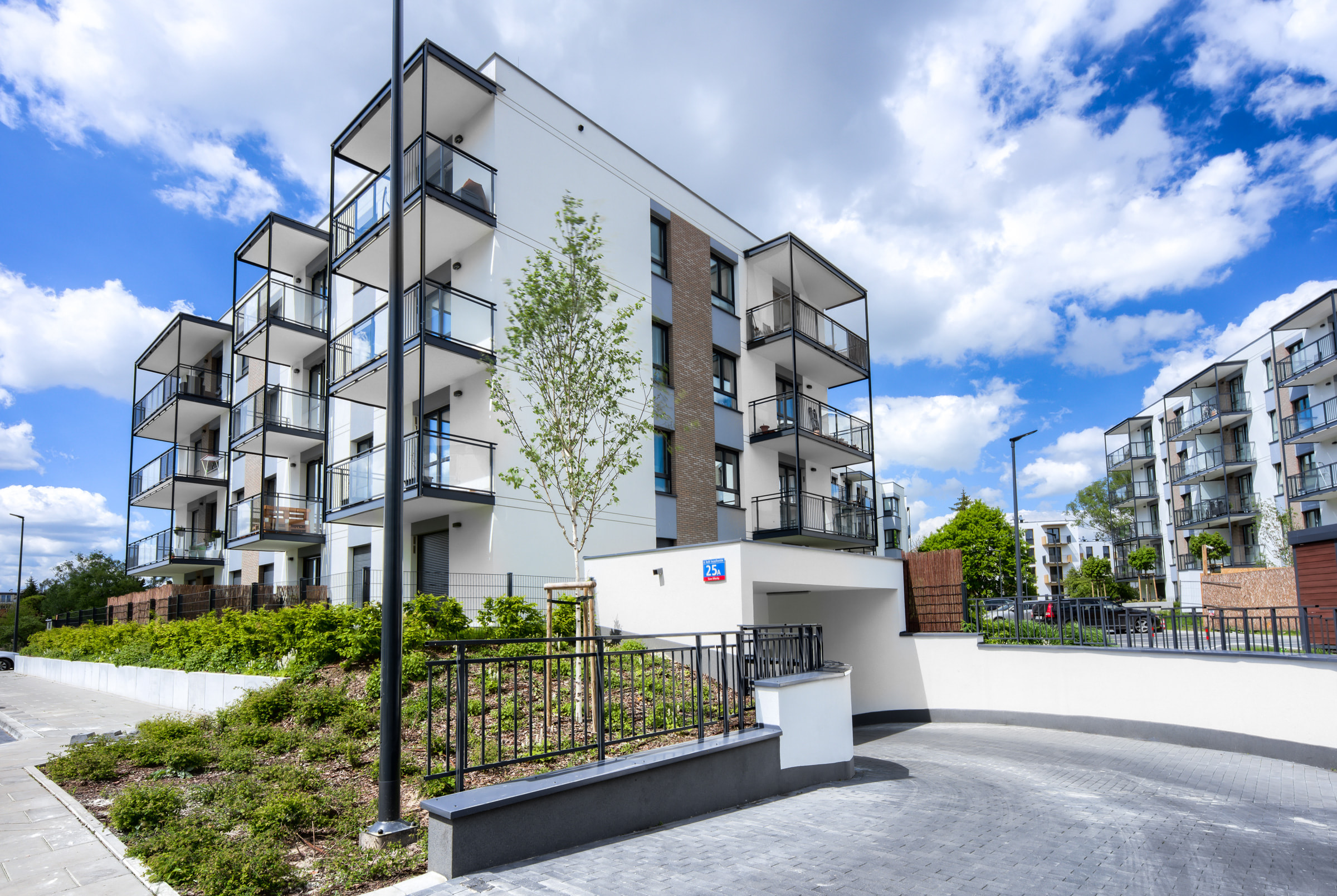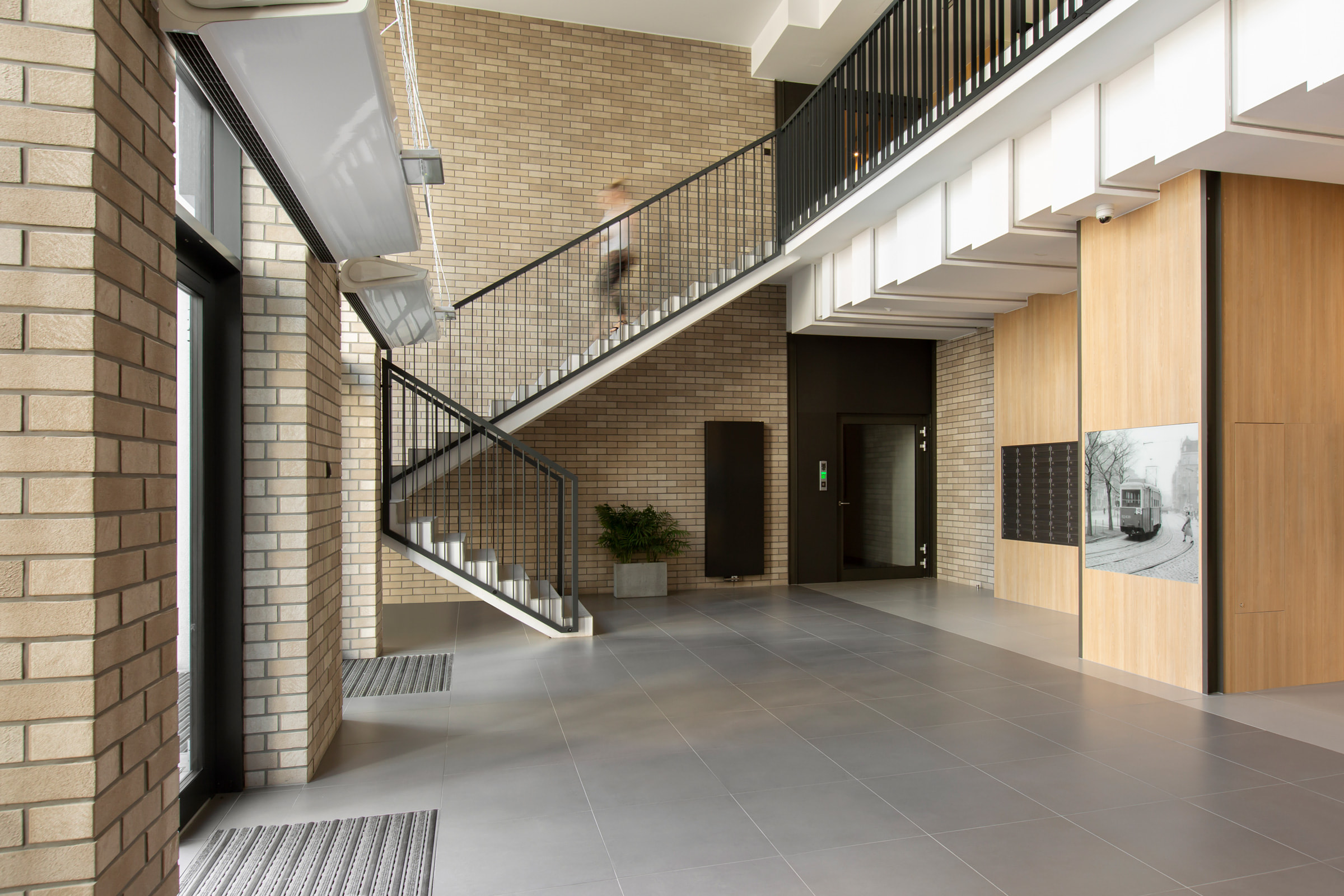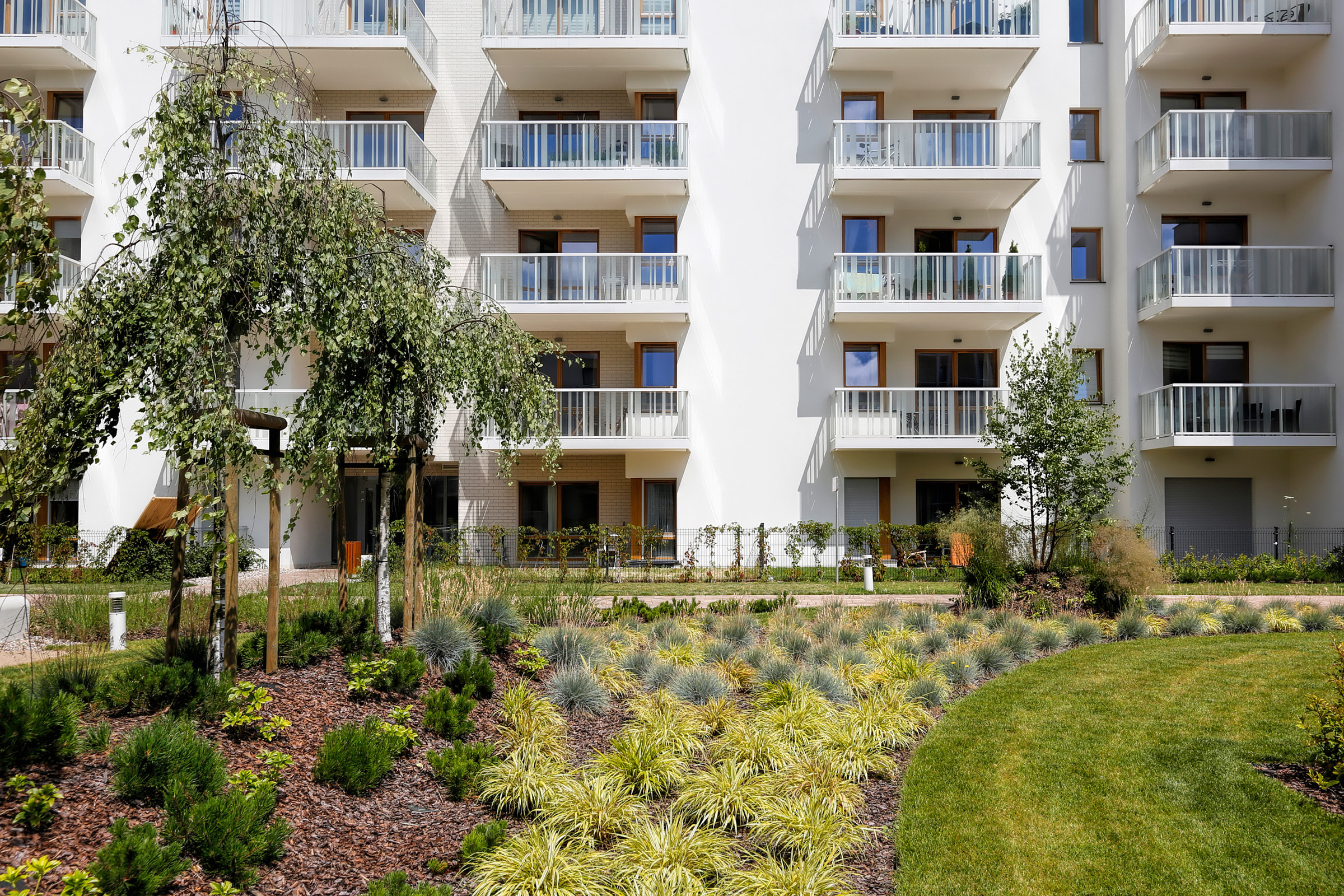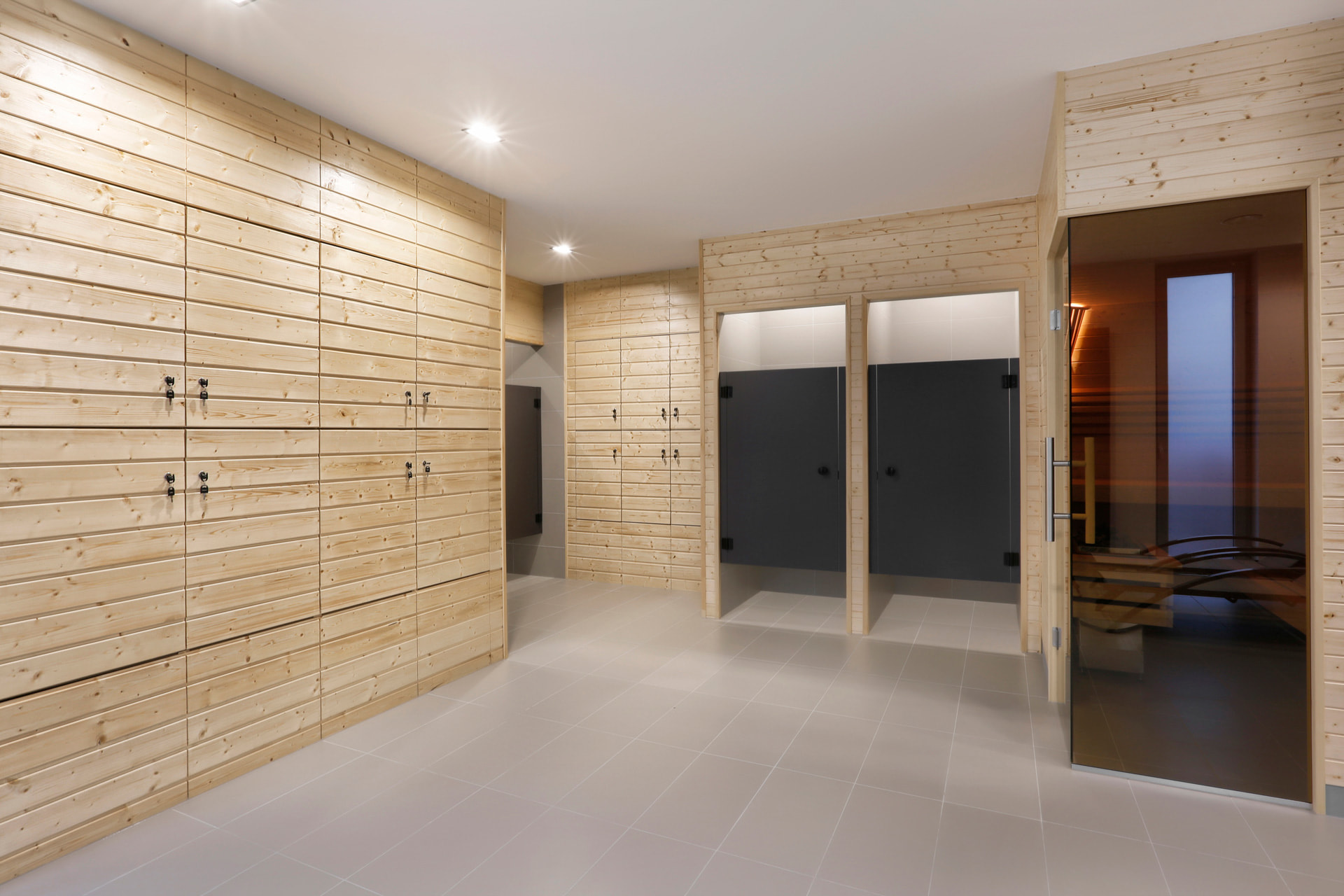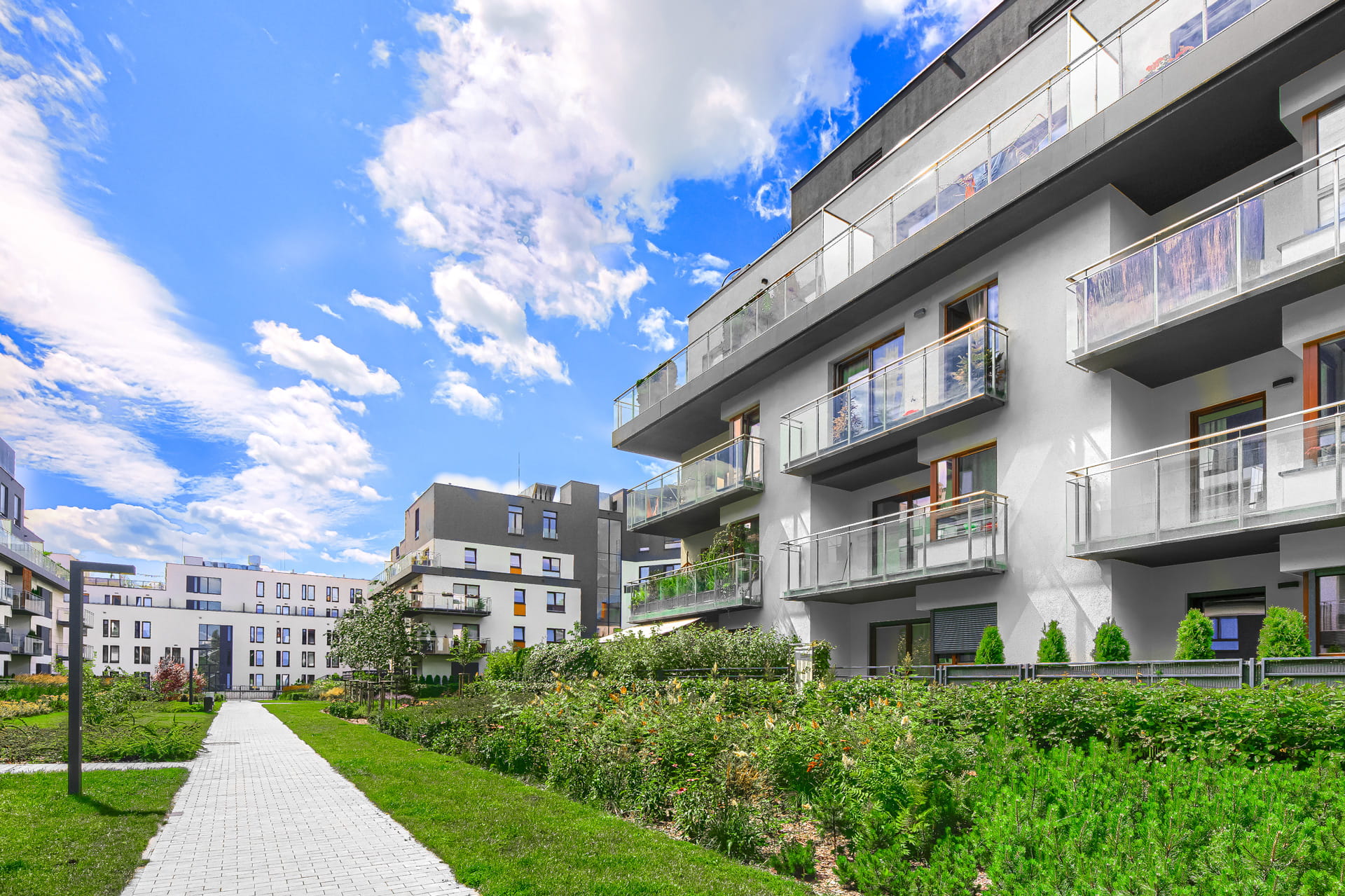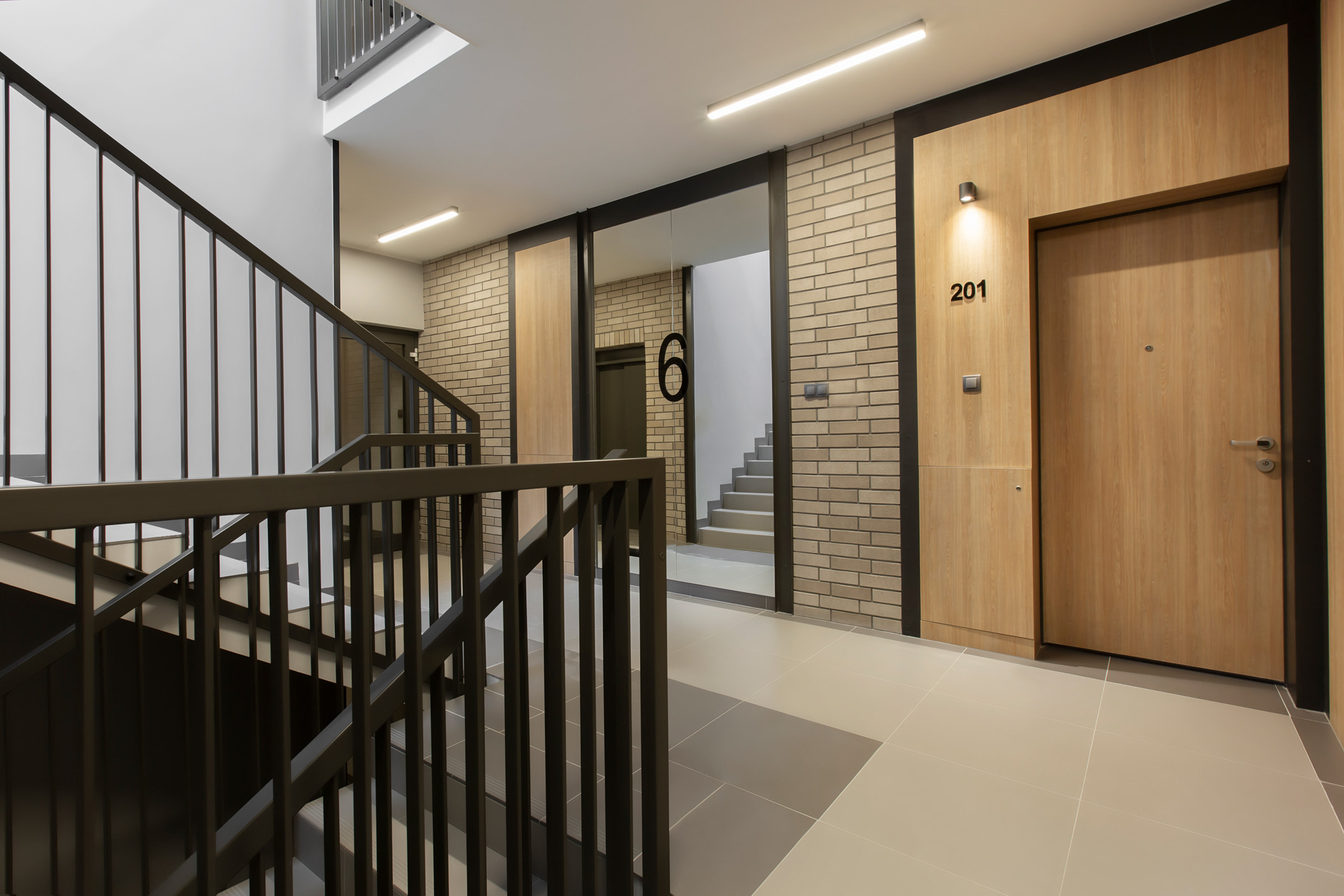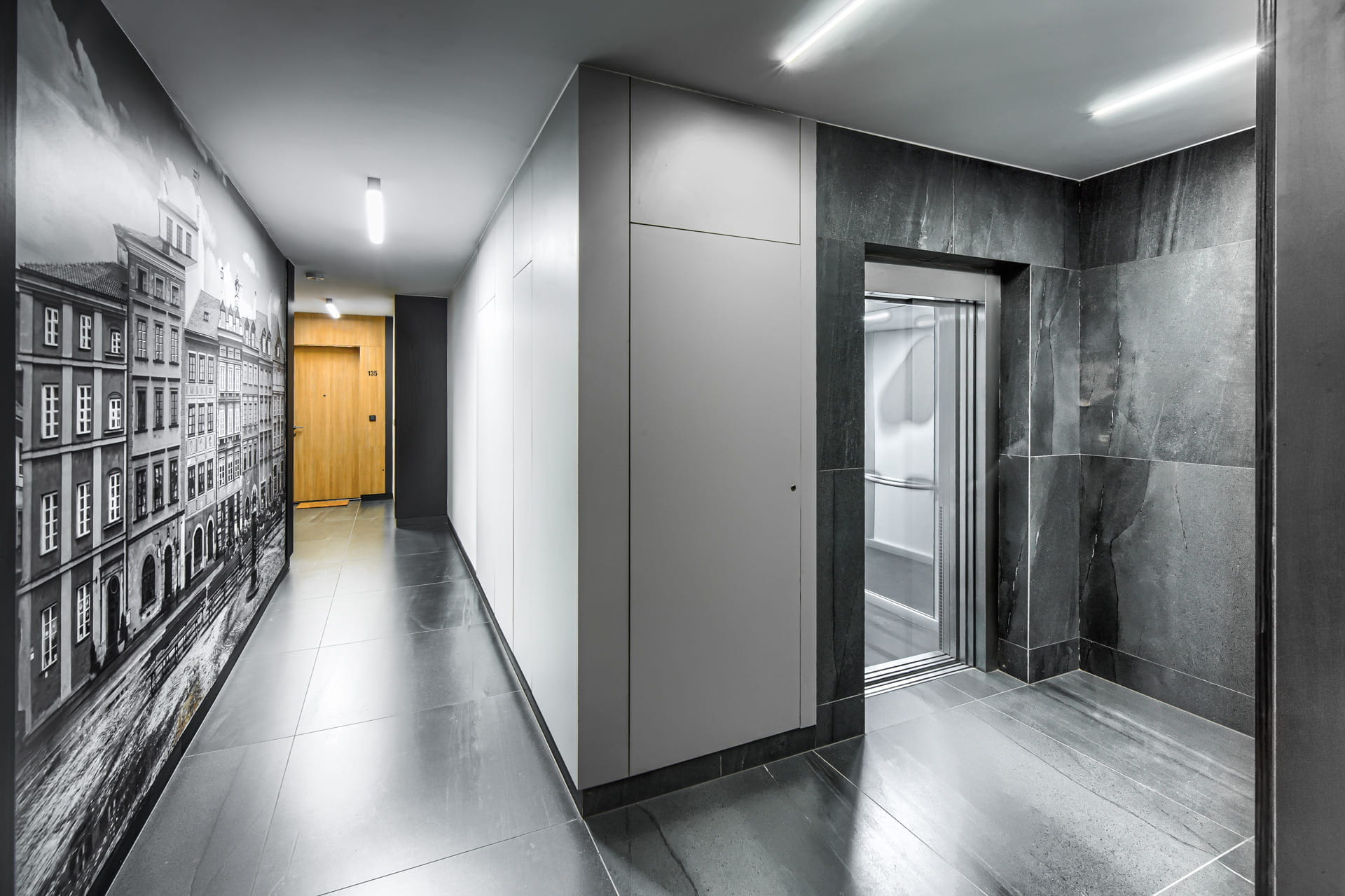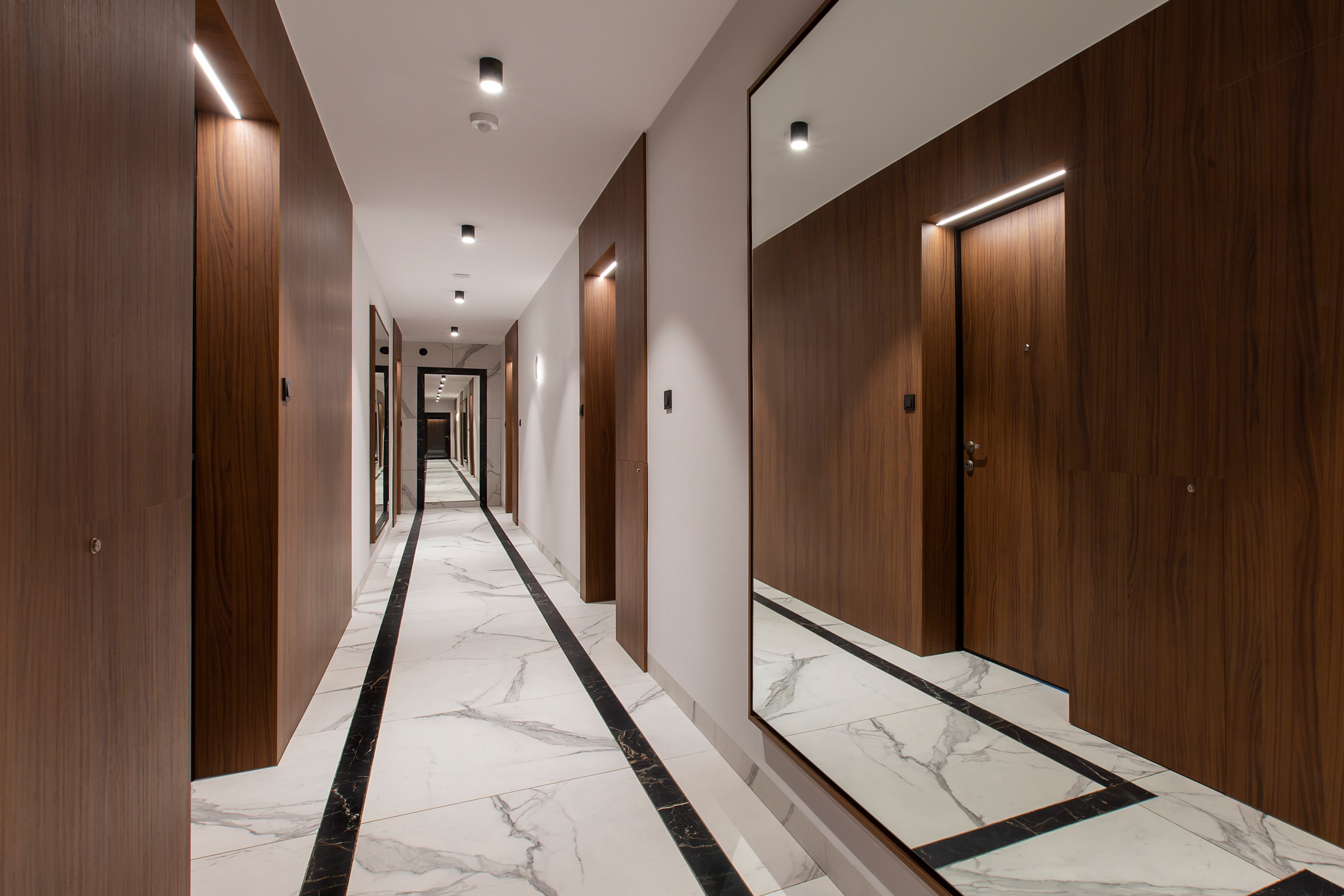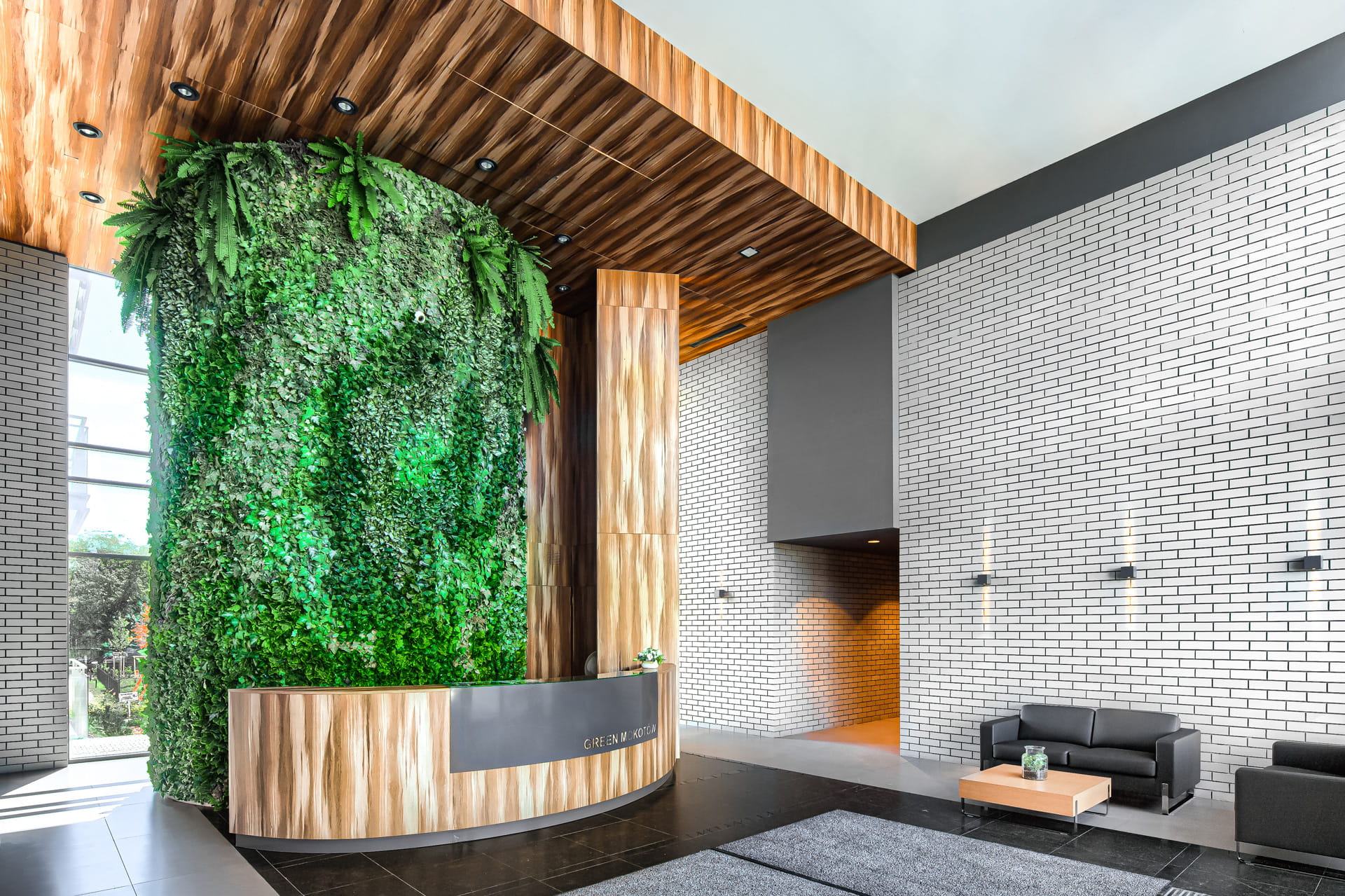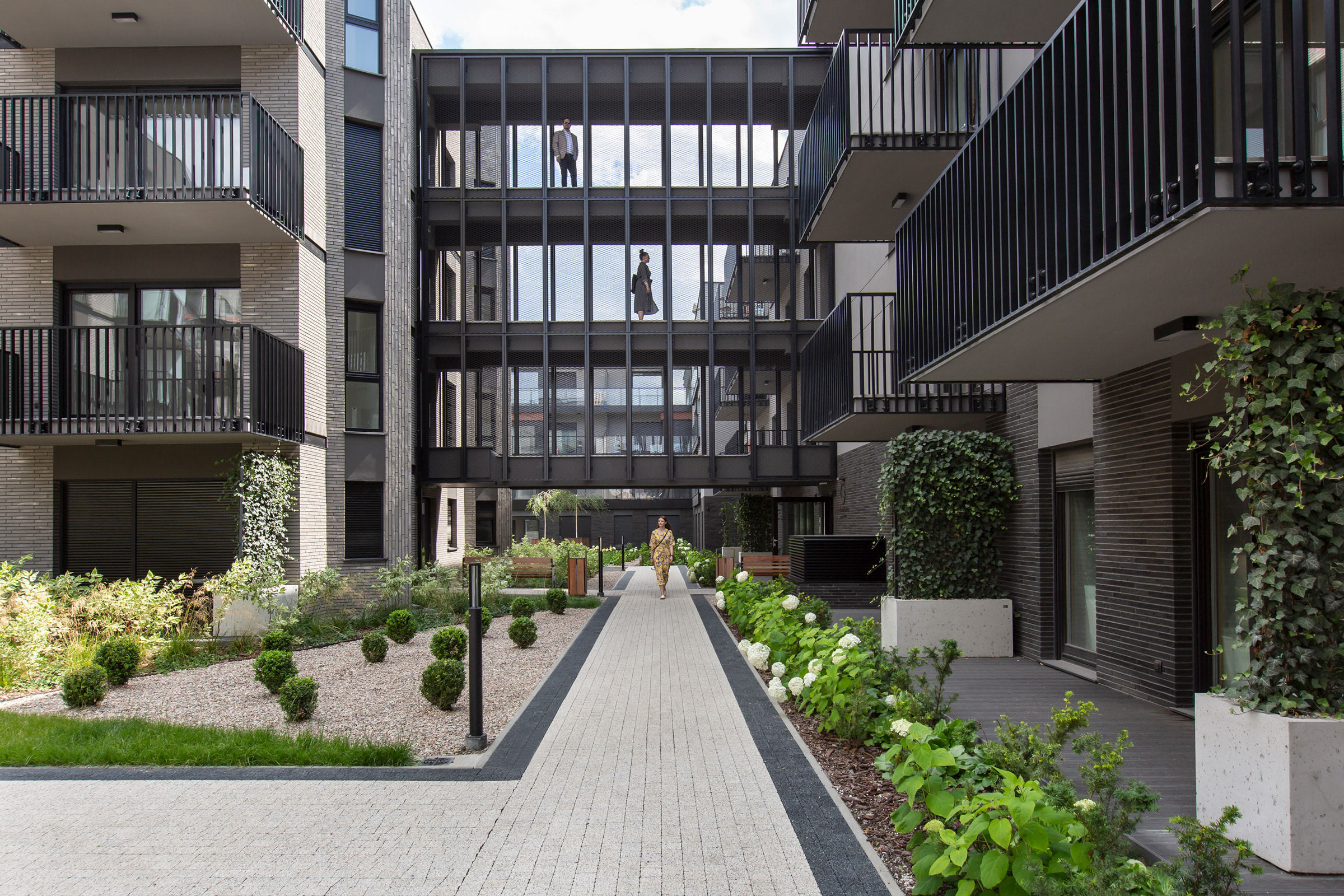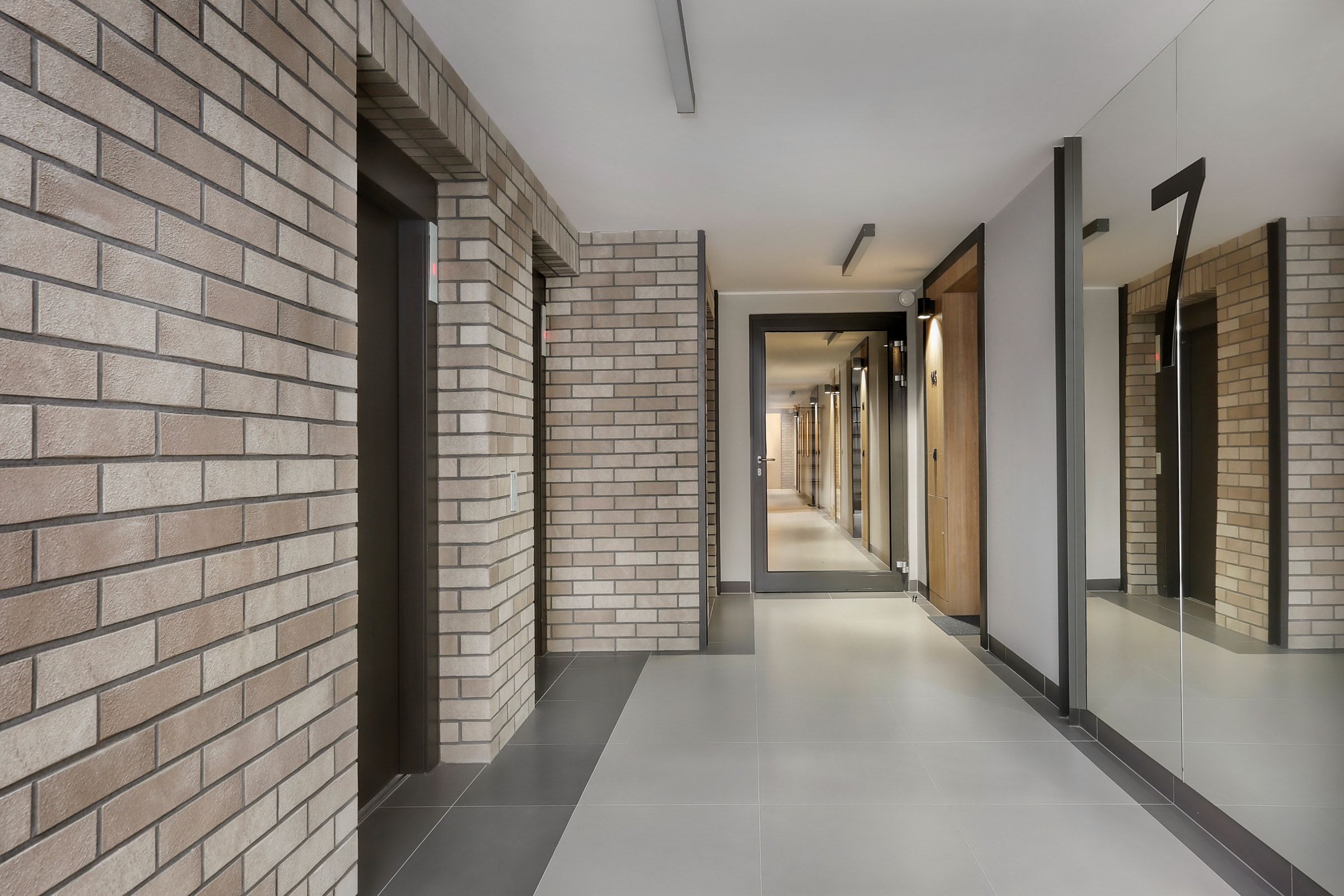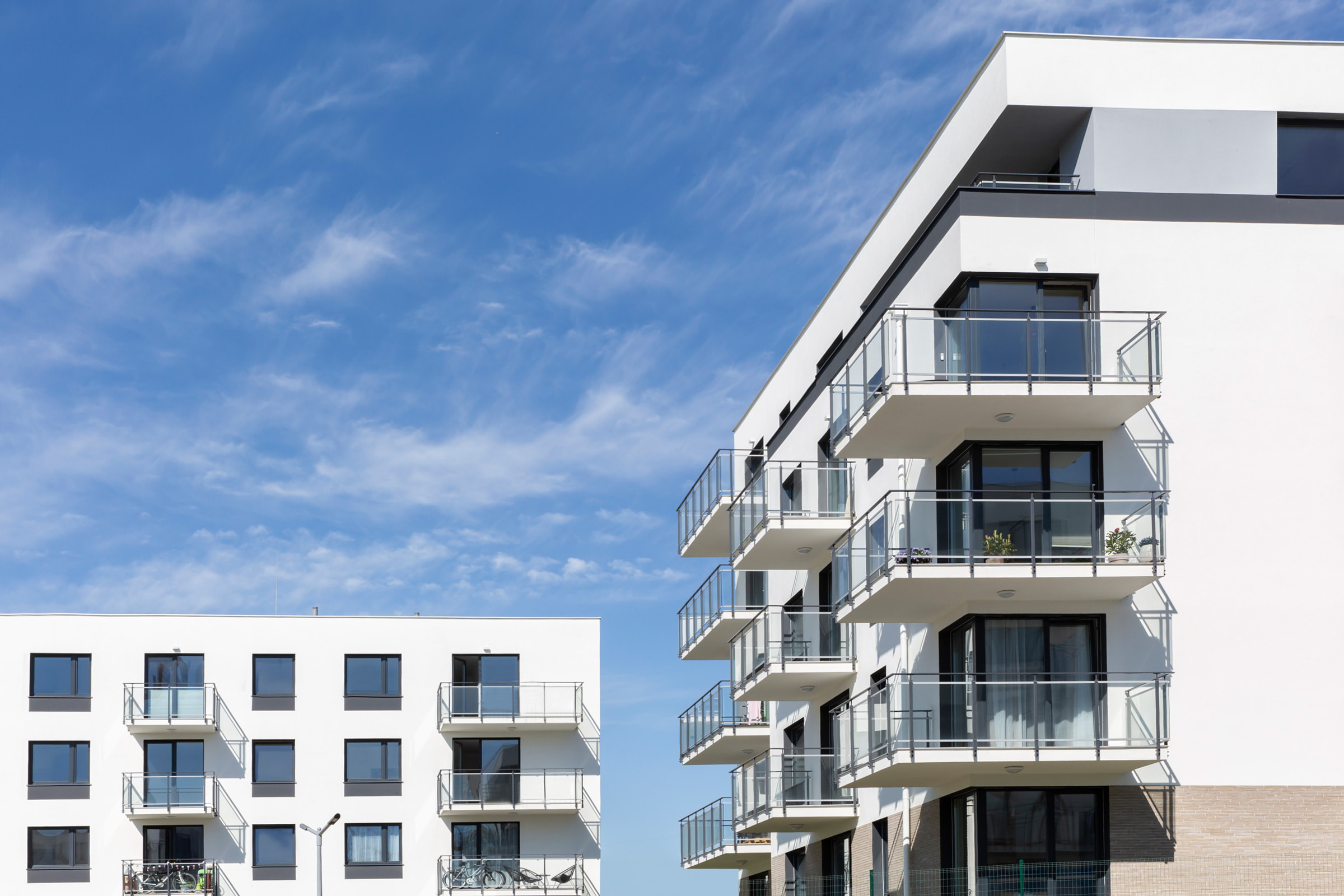 Your housing estate
We are not only building separate structures but friendly housing estates integrated into the environment. Construction is part of the process of creating a new society, which consists of building housing structures, infrastructure, shaping landscape, as well as recreation, integration and relaxation areas. We believe that with such an approach, we can offer not only to new housing estates, but also initiate the emergence of communities of people who are more than just neighbours for one another.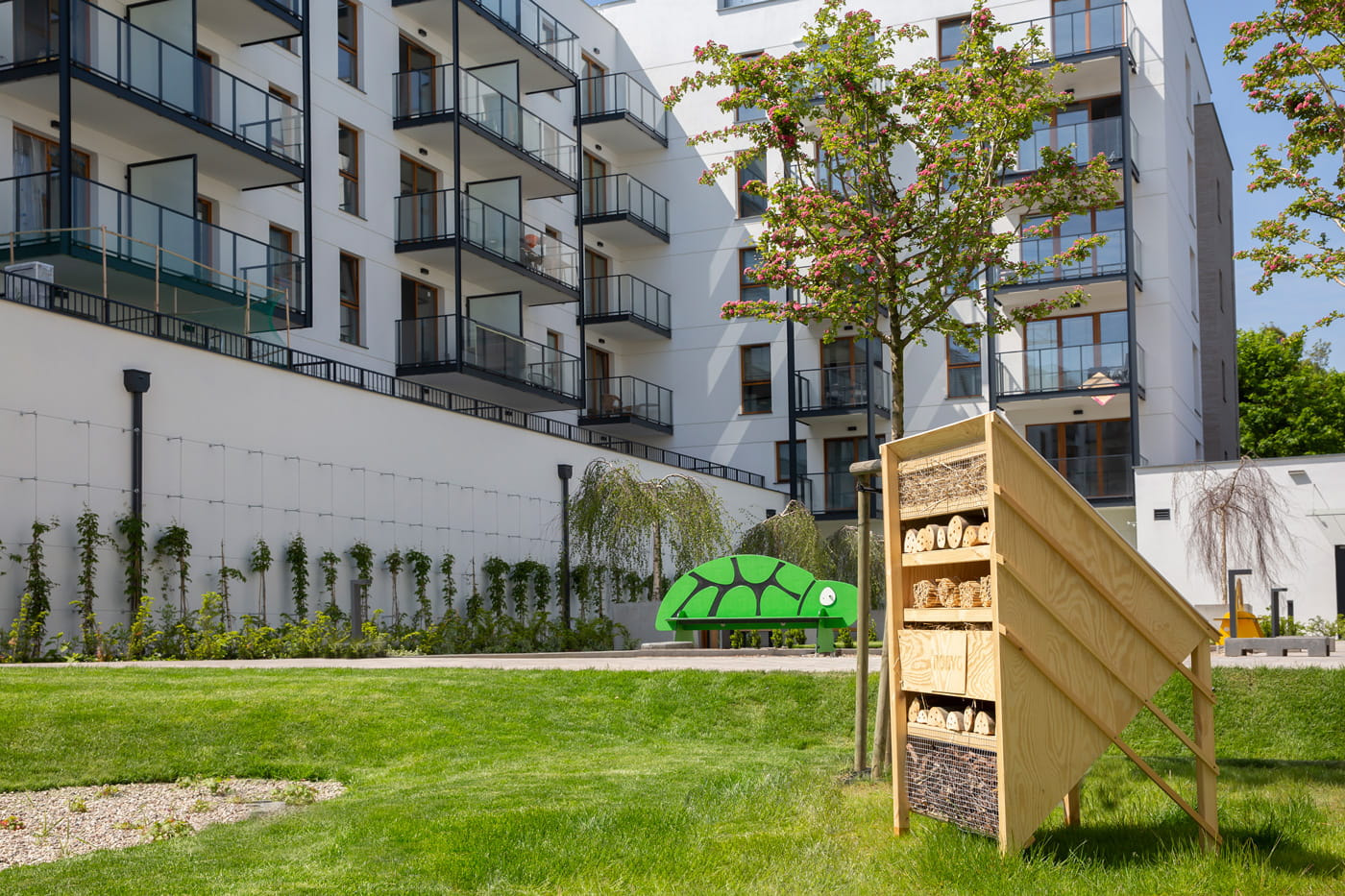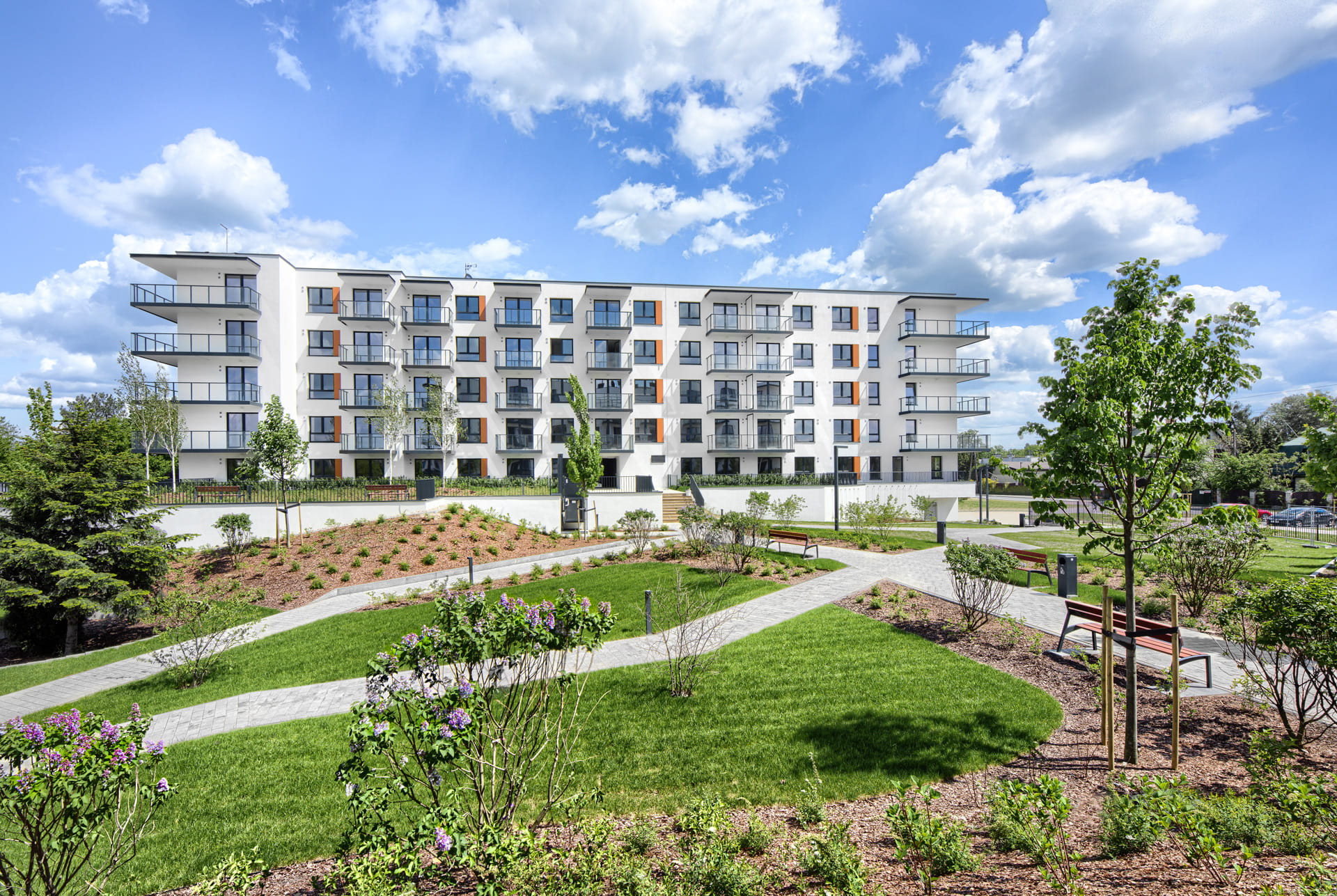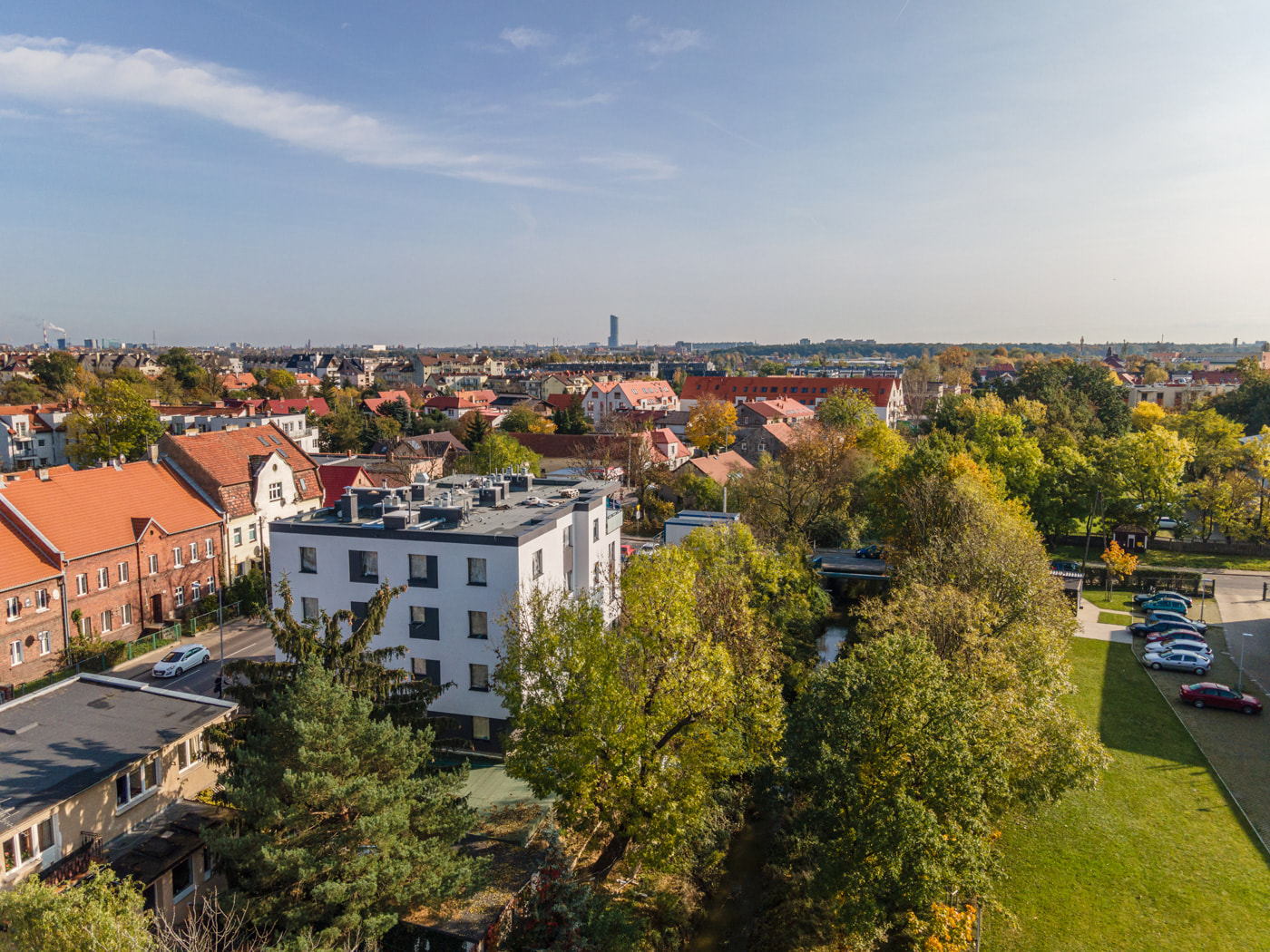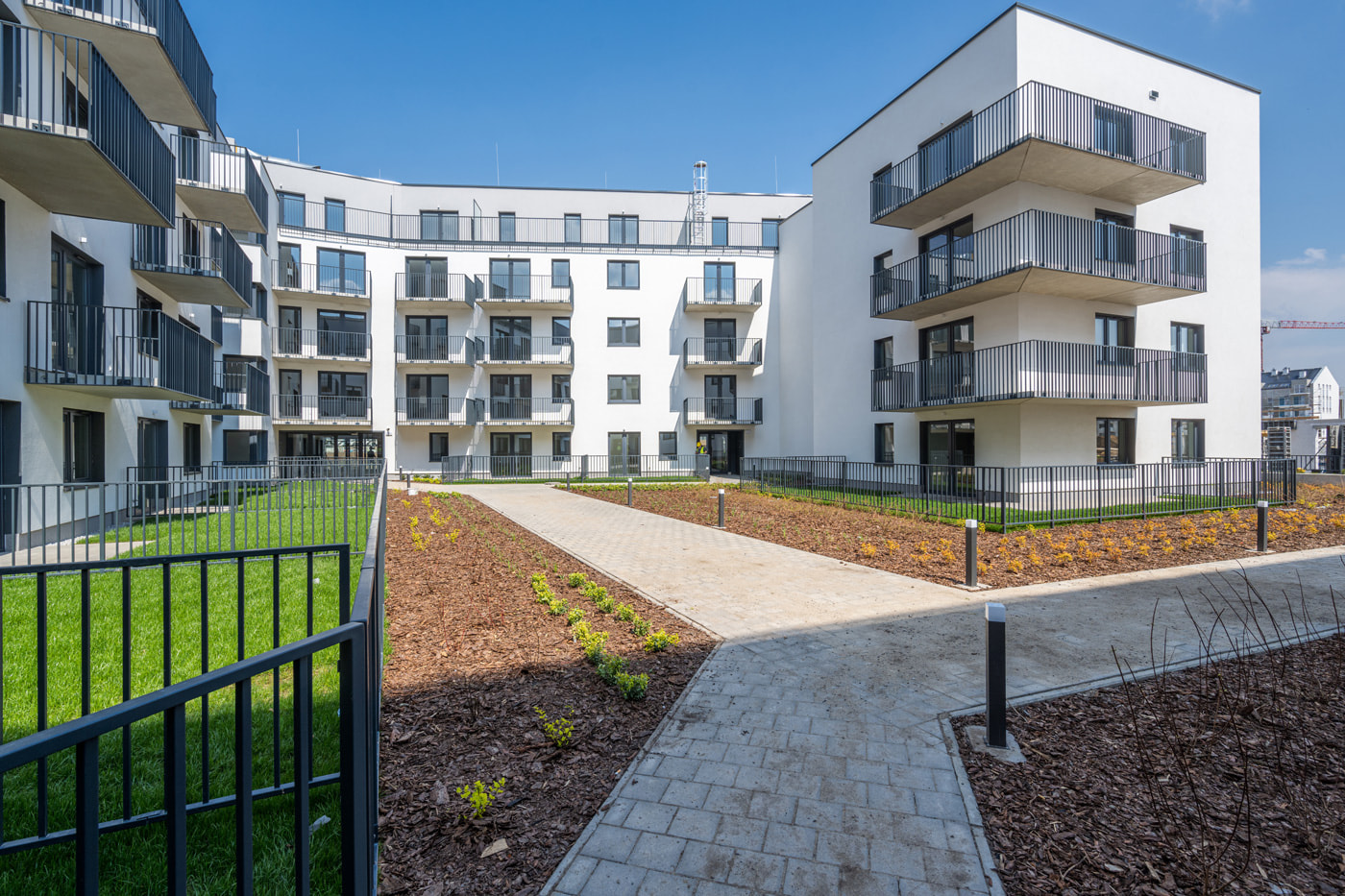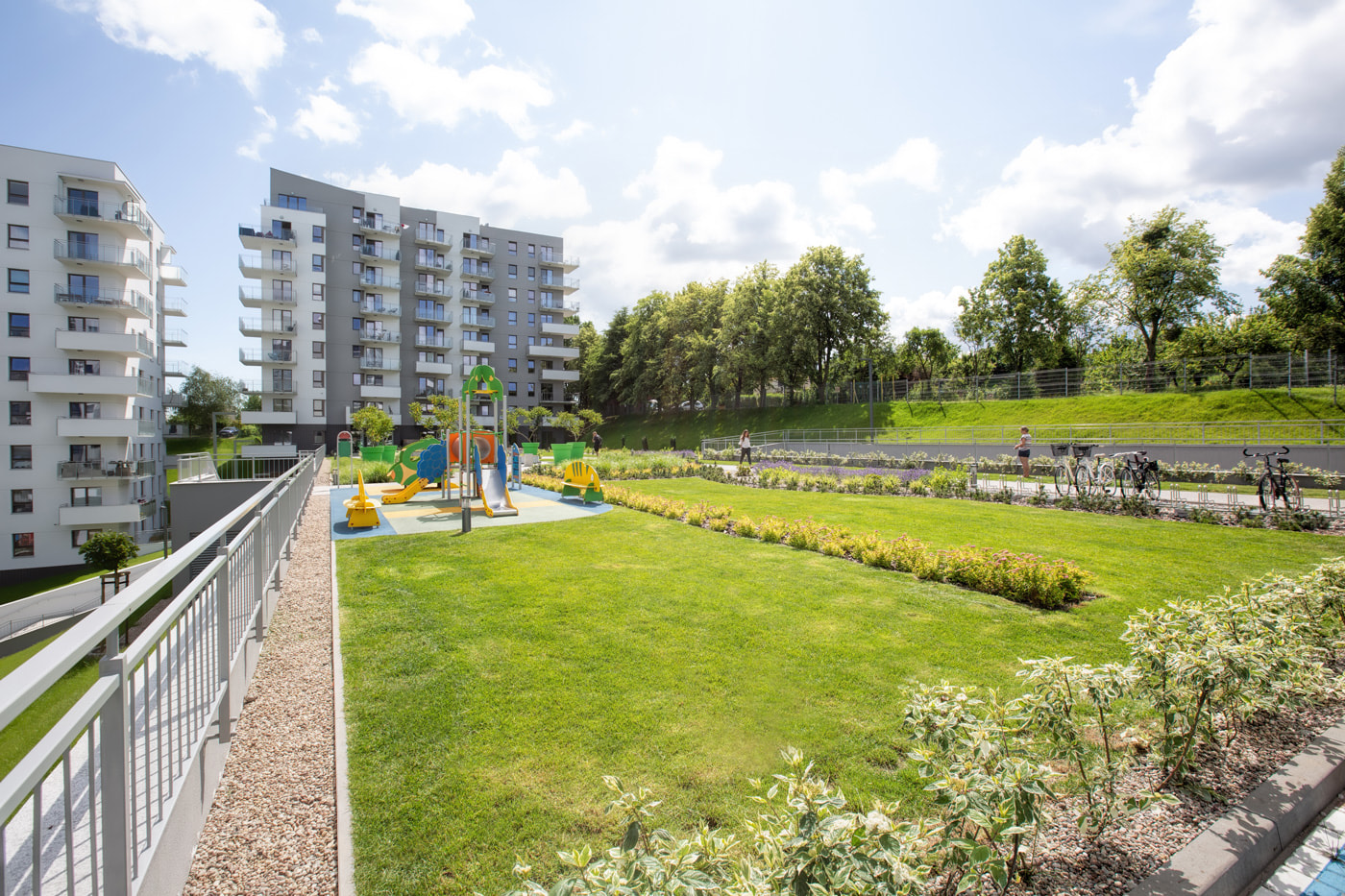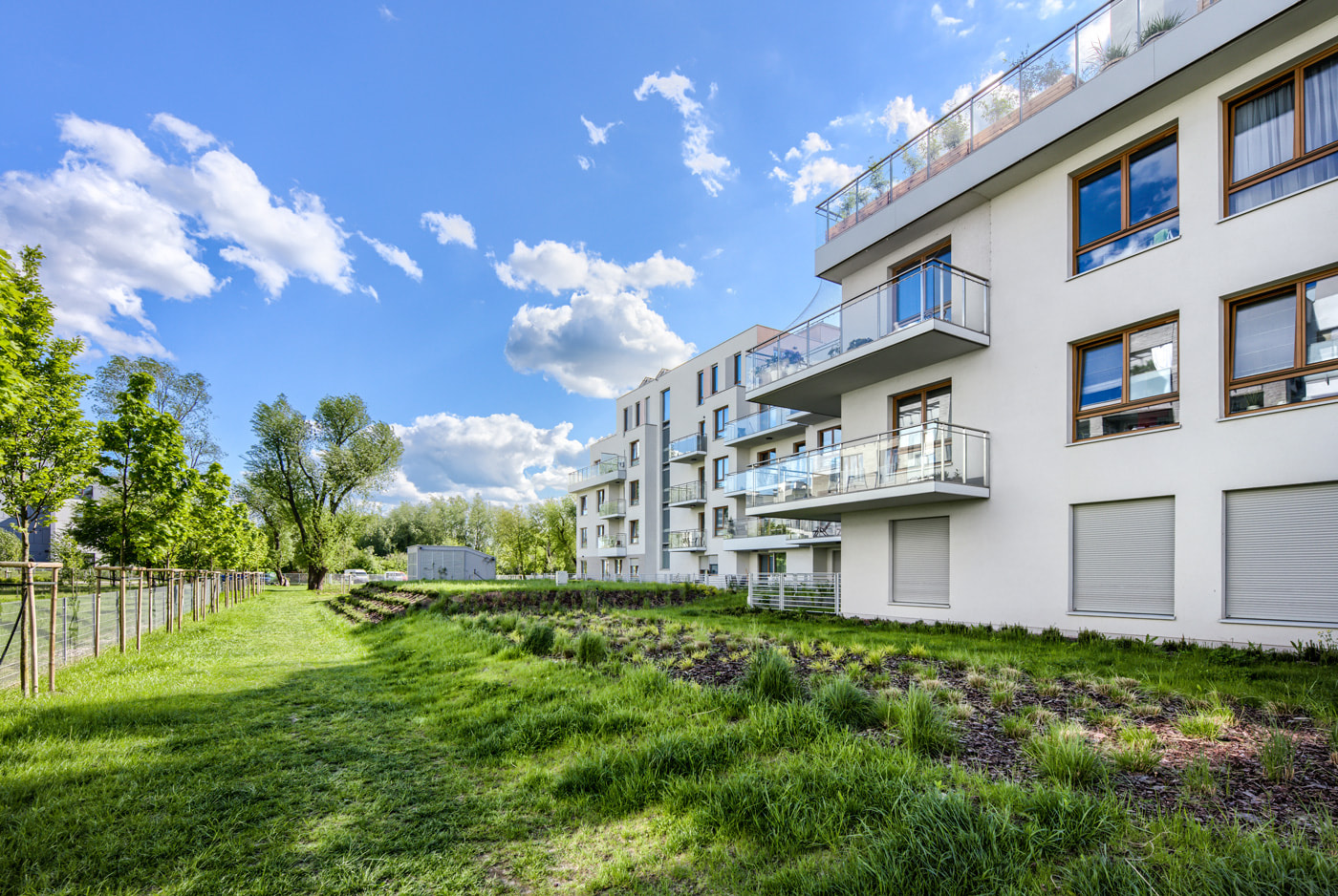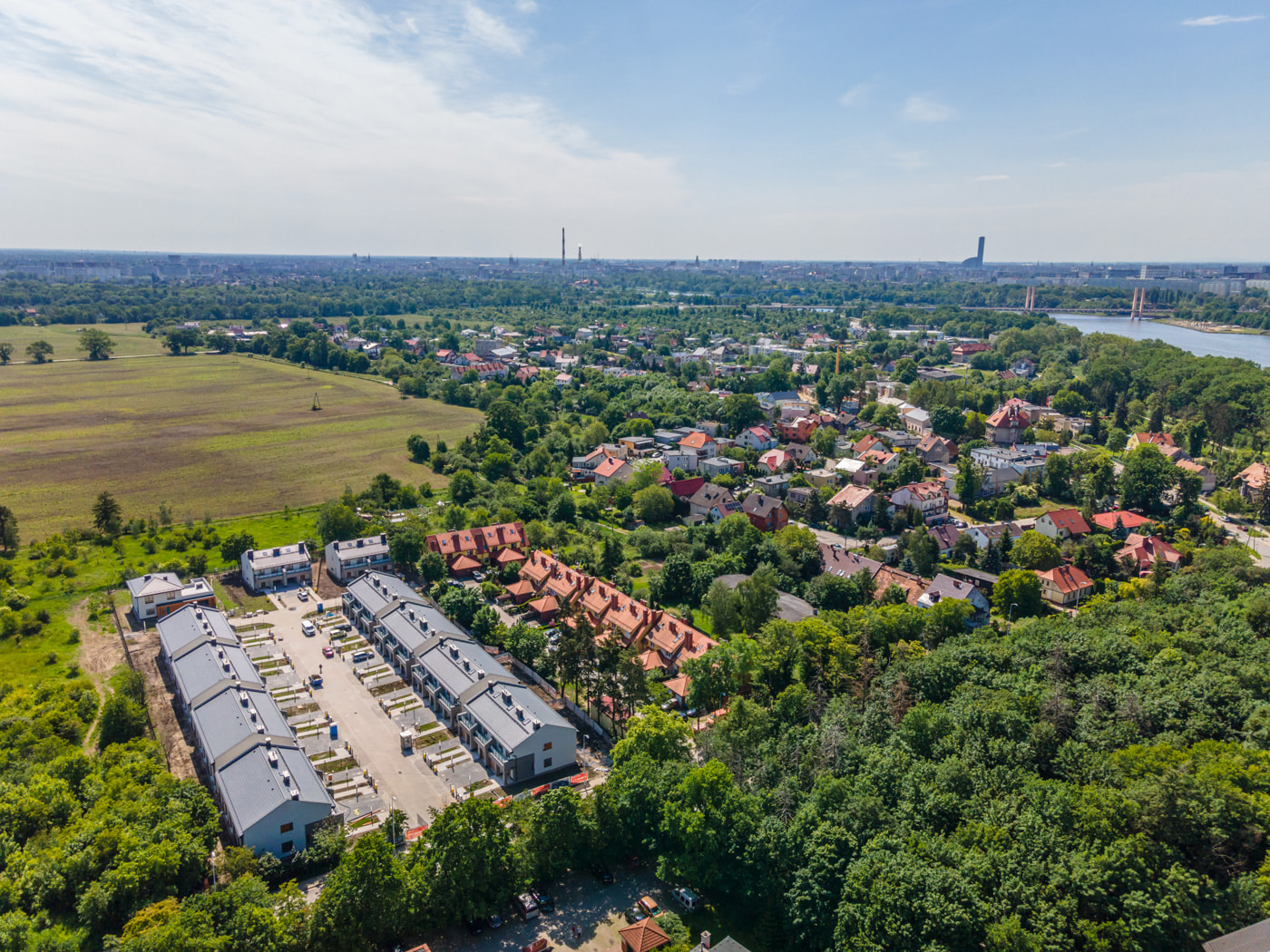 Electric cars charging stations
We install electric car charging stations in our estates, thus contributing to the development of electromobility in Poland.
Attractive location
We carefully select investment locations so that residents can use well-developed infrastructure and easily reach the city centre.
Green areas
The surrounding areas are built on the basis of an individual design of landscape architecture, in a high standard, with a high saturation of green areas.
Playgrounds
Safe playgrounds with a variety of attractions provide children with good development and guarantee having fun.
HD monitoring
Our estates are protected and monitored – the 24-hour HD monitoring provides the dwellers with the sense of security.
Bicycle stations
There are stands and bicycle stations available in our estates to allow residents to store and maintain their bikes on their own.